Tuesday, Sep 03,2019
Dental Tips for Back To School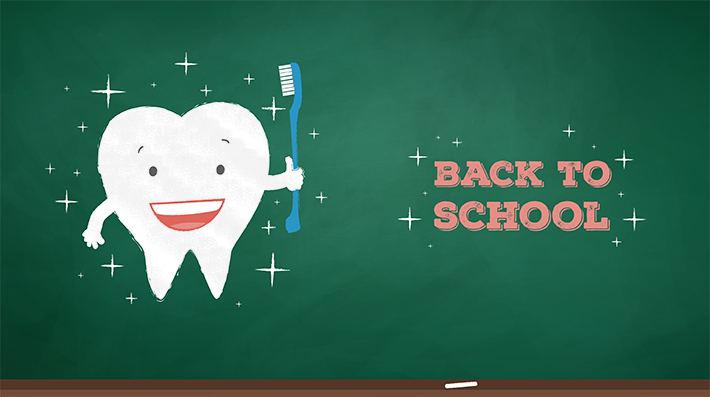 With the new school year fast approaching, it's time for children and parents to go back to the their routine.
That should include, keeping the whole family's oral health in check!
Here are some back-to-school tips to keep everybody smiling:
1. Regular check-up and cleanings with the Dentist
Before taking your kids back to the classrooms, make sure you schedule them an appointment with the dentist to check if their smiles are on track. It's recommended that your child visits the dentist every 6 months. By doing so, your child's dentist can take care of your child's teeth and gums, diagnose and treat or prevent dental problems.
By scheduling your child's dental appointment before or in the begging of the school year, you can save your child pain and lost school time. A check-up will ensure a healthy start to the school year.
2. Develop a healthy routine
To maintain good oral health, you should brush your teeth twice a day and floss once a day. This goes for children and parents too. In the rush to get to school a lot of children will skip brushing their teeth in the morning and go straight to class. That's a no no. If you can make brushing every morning for two minutes a routine from young age, they will generally not question it and just do it. Try to make it not feel like a chore. Let them choose the color of their toothbrushes, make a song for brushing time, get creative!
3. Keep teeth clean and eat healthy at school
Encourage your child to rinse their mouth with water after each meal. This will help to remove some of the food particles which can contribute to the production of plaque. Also, encourage healthy eating. Tooth friendly snacks include fruit, string cheese, vegetables, unsweetened applesauce, and nuts. Avoid sticky foods, such as candy, fruit roll-ups, and granola bars. These foods stick to teeth surfaces and cause decay. And remember, lots of water!
4. Buy the essentials
Make sure your child's toothbrush is in good shape. If it has been more than three months since you bought your child a new toothbrush, it's time to replace it. Well-worn toothbrush bristles won't do your child's teeth any favors.
Buy a toothpaste your child will like the taste. You can even buy child-friendly floss that tastes great, too! The more kid-friendly your dental supplies, the more your child will love keeping up with their oral hygiene routine.
Before your child goes back to school, we recommend getting them a custom-made mouthguard, especially for children who participate in sports on a weekly basis. Mouthguards have been proven to mitigate some of the damage of a concussion
For questions or concerns you may have about your teeth or your children's teeth, call Glenashton Dental Centre at (905)842-5500 or email us at info@glenashtondental.ca to book an appointment with Dr.Bamrah & Associates.